Nis Arend, High-Performance Coach to the Top 1%, The Corporate Confidante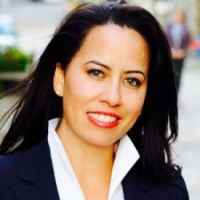 "Nis Arend is the go-to-expert who's firm trains the top 1% to be more successful – fast.  
After cutting her teeth in Private Banking at Barclays Wealth, her latest venture is the Top 1% Club; a power-network of elite performers helping smart, driven individuals who are already in, or aspire to be in, the top 1% of their industry. Her events, workshops and retreats help driven professionals master mindset, elevate performance and solve problems creatively. Known for her speed in achieving results, clients appreciate her keen intellect, direct fluff-free style, no-nonsense approach and deep understanding of human nature.
A global thought leader, she's career confidence coach to one of the UK's biggest magazine groups; hailed by the IOD as "country's most inspirational enterprising and influential women leaders" and named one of the UK's "Top 100 Most Influential People" by the market leader.
Her style is inspirational, thought-provoking and energising. "…One week with Nis was a game changer responsible for bringing in $15m of net new money so far…"
Susan Allan, Group Finance Director, Willerby Group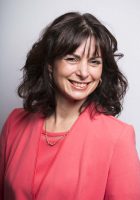 Susan is Group Finance Director for Willerby, market leader in the manufacture of caravans and
lodges in the UK. In 2017 she refinanced the business and took the company to market, selling to
Private Equity firm Equistone Partners. In 2018 she was awarded Best FD of a Ltd Co >£100m in the
Northern Finance Director awards. Previously she was Head of Finance for DFS who manufacture
and retail furniture in the UK and in mainland Europe. She was a member of the team who floated
the company on the UK stock exchange in 2015. Before that Susan worked for Bathroom
manufacturer Ideal Standard International in a variety of commercial finance roles with
responsibility for markets across Europe, Africa and South America and also had a strategic finance
role within their global head office.
Susan qualified as an accountant with ACCA in 1999 and was their representative for England before
being elected onto ACCA's global Council body in 2015. She has a particular interest in supporting
girls and women in their career choices and truly fulfilling their ambitions.
Susan is married with two children, Henry and Freya and is a keen cyclist, in her younger days she
ran a trampolining club.
Sophia Bantanidis, Head of Regulatory Strategy & Policy, Citi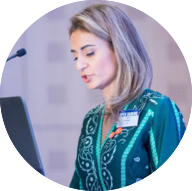 Sophia Bantanidis is the Head of Regulatory Strategy & Policy within the Treasury and Trade Solutions (TTS) Innovation Lab. She joined on 1 February 2016 from Northern Trust where she managed a team as the EMEA Head of Regulatory Developments enabling the bank to commercialise regulatory change for clients as well as to comply with rules and regulations. She is on the Innovate Finance Women in FinTech 2018 and 2017 Powerlist and a finalist for Women in Finance 2018 FinTech Champion of the Year category.
Sophia stays actively involved in the broader FinTech ecosystem, influences regulators as they formalise their innovation policy programmes, mentors FinTech and RegTech firms, actively represents Citi externally at key conferences / industry events and regularly briefs clients on regulatory change.
Sophia speaks 5 languages; she has worked at two financial services regulators (in France and in the UK), banks and asset managers in various business areas including derivative products strategic communications and risk. She holds an LLB in UK Law and German Law from University College London and from the University of Cologne as well as a Master's Degree in European Business from ESCP Europe in Oxford and Paris.
Julie Baker, Head of Enterprise & Community Finance, RBS & NatWest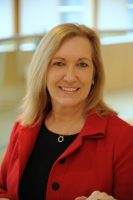 Julie Baker, Head of Enterprise and Community Finance at NatWest has a successful career in Business, Corporate and Retail Banking with a track record of building and leading strong and effective award winning teams. Julie was 'Highly Commended' at last year's Women in Finance awards for the program she oversees at NatWest supporting female entrepreneurs.
Julie is responsible for leading the ongoing delivery of new and better ways to support enterprise within the UK NatWest SME customer base. Julie is an external influencer and has chaired the BBA Diversity & Inclusion Council and the Access to Finance Group at the APPG for Women in Enterprise. She acts as an Enterprise Ambassador and is an inspirational role model who is passionate about helping others succeed.
Helen Bierton, Head of Retail and SME Banking, Starling Bank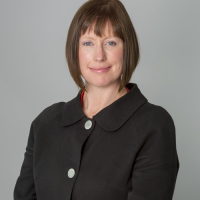 Helen Bierton is head of banking at Starling Bank, the leading app-based bank. She joined Starling in 2018 from Santander, where she worked from 2007. She was Head of Current Account Acquisition, Mortgage and Savings, rising to become Director of Products at Santander Business, Santander UK. Previously she undertook roles in Product, Pricing and Strategy at Alliance & Leicester and NatWest. At Santander, she helped build a network to support women in their careers, which now has more than 3,200 members. She was recognised by Women in Banking and Finance in 2017 as a shortlisted finalist in the Champion of Women category. She represented Great Britain in archery at the Athens Olympics in 2004.
Yulia Baynham, Director - PwC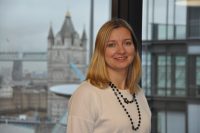 Yulia is a Director at PwC's consulting practice and a winner of the Insurance Leader of the Year 2018 Women in Finance Award. Having had a number of different roles at PwC UK and Russia, she is currently working with the largest international companies on implementation of their strategic initiatives such as multi-year business transformation programmes.
Born in St.Petersburg, Russia, Yulia graduated with International Economic Relations honours degree from the State University of Economics. She was the second Russian student who was awarded Rotary International Ambassadorial Scholarship to study in the UK. She moved to London in 1998.
She is passionate about empowering future talent and a mentor to many of her colleagues. She was an external mentor in the Elite Athlete and 30% Club mentorship programmes and co-leads PwC's Women in InsuranceTech network. Her has two teenage children, loves sport (former heptathlete) and travelling the world having visited 35 countries.
Suzanne Brock, Managing Director, Nutriment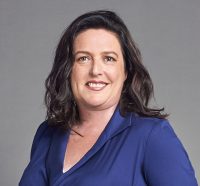 Bio to follow
Charlotte Crosswell, CEO - Innovate Finance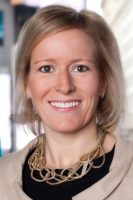 Charlotte Crosswell is the CEO of Innovate Finance, the UK membership body representing the FinTech industry. She has spent most of her financial services career in market infrastructure roles. Prior to joining Innovate Finance, Charlotte was Founder and CEO at two Nasdaq owned London start up exchanges in equities and fixed income, and sat on the board of LCH Ltd. She has held a number of management positions at Nasdaq and London Stock Exchange across international capital markets, equities, fixed income, OTC derivatives trading and clearing.
In addition to her work with Innovate Finance, Charlotte advises and sits on the boards of Government FinTech advisory groups, technology companies and FinTech startups. and has been working with technology companies throughout her career. Charlotte holds a BA (Hons.) in French from the Southampton University. She has been included in the list of top 100 Women in Finance over many years.
Victoria Davies, Managing Director of Strategy and Corporate Development, Danske Bank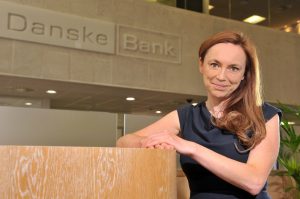 Vicky is MD of Strategy and Corporate Development at Danske Bank UK, Northern
Ireland's biggest bank. She is the first ever female Executive Director to join the Board of the
Bank.
She is an experienced leader with extensive strategic, commercial, M&A, digital, regulatory
and transformational change credentials. She has held a number of senior roles in the
financial services sector, has an MBA from INSEAD and is the mother of four young boys.
She was named Banker of the Year at the Women in Finance Awards in Ireland in 2018.
Tessa Denning, Senior Associate, Partners Capital
Lucy Dunnett, Specialist Investor of the Year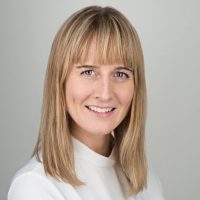 Lucy is an activist working in the finance sector. She advises purposeful families to invest in things that align with their values. She helps people, who have not yet found their purpose, to think more deeply about what they want to achieve with their money.
Lucy is a mentor. She supports female entrepreneurs that focus on social and environmental impact. She helps them to get access to the right type of funding – patient capital. Where there is a meeting of minds she invests herself, and in 2018 she received the Specialist Investor of the Year award at the Women in Finance Awards.
Lucy has a 1 year old daughter. She is keen to change the way we think about money and "value" to ensure her daughter, and the rest of the next generation, live in a more supportive world than we do.
Michael Ellwood, Non Executive Director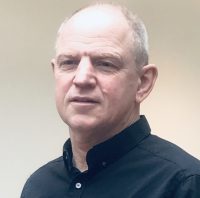 Mike is a highly accomplished senior executive and NED with more than 30 years' extensive experience
operating at Board level in a variety of roles across a number of complex organisations.
A skilful professional with excellent communication, influencing and change management skills, he
has an exceptional track record of building businesses or leading cultural transformation change
programmes.
Experienced in developing strategy and managing regulator relationships evidenced in the growth
of Santander Corporate and Commercial Bank he also has extensive knowledge of Corporate
Finance, Private Equity and Banking Markets.
Currently NED and Audit & Risk Chair at NW Anglia NHS Foundation Trust and NED at rapidly
expanding private Spa and Leisure Group, Champneys.
Mike also provides growth consultancy and mentoring services to businesses in the UK.
Tamara Gillan, CEO & Founder, Cherry London & The WealthiHer Network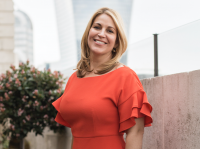 Tamara Gillan is an experienced entrepreneur and Chief Executive, having founded and run
two independent, successful and award-winning marketing agencies over the past 15 years.
She is a champion of diversity and a natural born collaborator.
This year, Tamara co-founded with Lauren von Stackelberg, a diversity change agent, The
WealthiHer Network, which brings together the UK's leading financial institutions, to work in
partnership for the first time to celebrate and support female wealth. As a single mother and
non-UK national (arriving on her own from New Zealand) Tamara has had to fight for her
own success and passionately believes women deserve to be recognized and championed
by the financial sector. WealthiHer intends to do this; inspiring and empowering women to
grow and protect their wealth.
Rina Goldenberg, Founder and CEO, Voice At The Table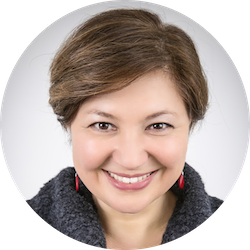 Rina has 20 years of experience as a lawyer. Having started her legal career in Washington DC, she then worked as a banking lawyer with Clifford Chance LLP in London and as a Director in the legal department of ING Bank London.
Later in her career, having encountered obstacles to her desire to fully contribute to the success of the company by which she was employed, Rina developed a passion for helping other women attain sustainable career satisfaction by being able to contribute fully, and for that contribution to be valued and turned into a useful resource for the business.
Jacqui Hatfield, Partner and Head of Fintech Regulatory, Orrick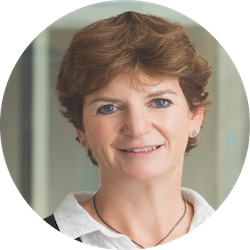 Jacqui is a partner in Orrick's London office. She heads up the financial services regulatory team in London and is co-chair of the firm's global Blockchain and Cryptocurrency group. Jacqui has more than 20 years' experience in providing international regulatory advice across the broad spectrum of the financial services regulated community. Jacqui's clients include asset managers, brokers, banks, fund managers, fund platforms, payment service providers, e-money issuers, Fintech companies, exchanges and corporate finance boutiques. She is particularly active in the Fintech space, with clients including peer to peer lending platforms, challenger banks, app payment providers, investment and property crowd funding platforms, robo advisers and wealth management platforms, alternative investment fund managers and on-line broker dealers. Jacqui also has significant experience advising on blockchain, digital currencies and ICOs.
Erica Ingham, CFO, MediaCom North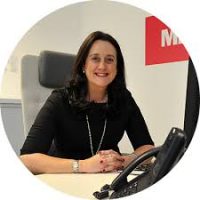 As CFO of MediaCom North, Erica possesses a prestigious reputation within the financial sector. Erica's predominate focus is business growth, commercial insight, acquisition and compliance and holds a wealth of experience within the accountancy profession whilst also being responsible for the business Finance, HR and Compliance functions. Erica is a Chartered Management Accountant and an experienced Non-Exec and holds a Diploma in Board Direction. Erica is an appointed co-opted member of the Audit Committee for the University of Manchester and has most recently been appointed as a board member for the CIMA UK Regional Advisory Panel.
Erica is passionate about diversity in the workplace and launched MediaCom's first extensive Neurodiversity policy, training team managers in dyslexia, dyspraxia, autism, and ADHD, changing recruitment practices making Mediacom a diverse friendly environment.
In 2018, Erica was announced Winner of Finance Leader of the Year in the Women in Finance Awards 2018 and was a finalist for CFO of the Year.
So far in 2019, Erica has been named as a finalist for the Inspiring Women Awards 2019 and CFO of the Year 2019 at the FD Excellence Awards 2019."
Paul Kearns, Senior Partner, OMS LLP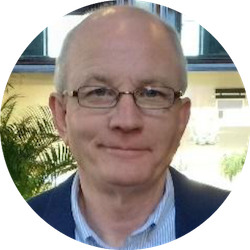 Paul Kearns' wealth of experience comes from a long career in strategic human capital management, with a particular focus on measuring the value of 'intangibles'. It led him and a group of colleagues, in 2012, to establish the Maturity Institute (MI). MI measures and rates companies according to how well they reconcile their business models with their wider social responsibilities. These Organizational Maturity Ratings (OMRs) constitute OMINDEX, a benchmarking scale for investment and business management. He recently co-authored MI's first textbook – 'The Mature Corporation: A Model of Responsible Capitalism' – which uses MI's research evidence to demonstrate how maximising long-term shareholder value is entirely dependent on maximising Total Stakeholder Value (TSV). This methodology is now being taught at MBA level and is the basis for his collaboration with Lucy Dunnett. Paul is Senior Partner at UK-based advisory firm OMS LLP.
Rasha Khawaja, Board Member, University of Oxford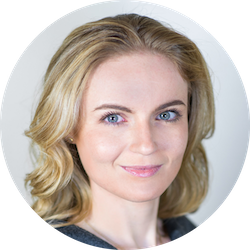 Rasha studied Psychiatry and Cognitive Science at Brown University. Further education followed at both Oxford University and Cambridge University before Rasha started her career at Condé Nast Publications and went on to work at Christie's. These experiences heightened her entrepreneurial drive and after spotting a gap in the market for a way to help creatives get their businesses out in front of influential business luminaries, Toucan was born. Rasha is a member of the UKBAA, and the advisory board of Innovation RCA and the development and strategy board of the ZSL. Rasha also sits on the board of the Oxford Business School as well as the Oxford Global Leadership Council and is a Founding Ambassador on the Prince's Trust Women Supporting Women Council. Rasha is also dedicated to a number of charities and sits on the board of 'The Playing For Change Foundation', as well as her family's charity, 'The Said Foundation'.
Jenny Knott, CEO, FinTech Strategic Advisors Ltd.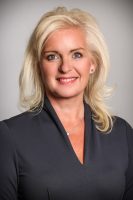 Jenny Knott is both a board level investment banker with over 30 years' experience
as well as a leading innovator in financial technologies.
Jenny has extensive board experience having served on Boards of Global
Investment Banks, Corporates and Charitable organisations for over 25 years.
Jenny is the Finance Trustee for OCA, a scientific research charity for female
cancers. As the Chairwoman of Equiida, a global, senior executive leadership
advisory firm, she promotes the science that greater inclusivity improves business
performance. Jenny is the founder of FinTech Strategic Advisors, assisting Clients
with their FinTech investment and adoption strategies and supporting start-ups to
achieve scale and commercial success.
Penny Miller, Partner, Simmons & Simmons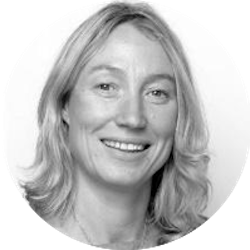 Penny is a partner in our financial services regulation practice which forms part of our financial markets practice in London. Penny specialises in a wide range of UK and EU regulatory matters, including advising financial institutions on product regulation and the impact of current and future regulation on transactions relating to derivatives, structured finance and retail structured products. In addition, Penny is advising extensively on MAR, PRIIPs, the Benchmark Regulation and MiFID2 as well as regulating people under the Senior Managers Regime and managing related conduct risk and culture issues.
Kirsty Moore, Managing Director, HSBC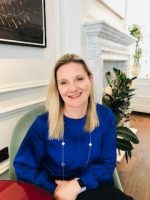 Kirsty Moore is Managing Director of HSBC Private Bank and has over 20 years of experience
advising families on all aspects of their wealth, with particular focus on entrepreneurs and
wealth being realised from the sale of private companies. She is a keen supporter of
Diversity and Inclusion leading the initiative for the UK Private Bank and was shortlisted as a
2018 finalist of the Women in Banking and Finance Champion for Women award.
Representing HSBC Private Banking, Kirsty has played an integral role in the build of The
WealthiHer Network, an initiative that has brought together leading financial institutions to
celebrate and support female wealth.
Roxana Mohammadian-Molina, Chief Strategy Officer, BLEND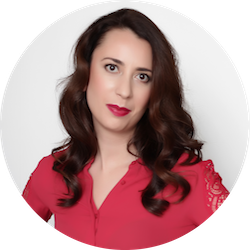 Roxana is Chief Strategy Officer of BLEND network, a property P2P platform. Prior to joining BLEND she founded leading mobile beauty platform Zeebba and was a Vice President at Morgan Stanley.
Melissa Murphy, Senior Manager of U.S. Regulatory Technology, Scotiabank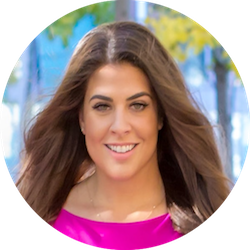 Melissa is an experience Senior Leader with a demonstrated history in the banking industry. Upon graduating from Steven's Institute of Technology with a Bachelor's of Science in Quantitative Finance, Melissa began her career in the Investment Bank at J.P. Morgan. It was when she moved to Citibank working on global regulation implementation that Melissa transitioned into the Regulatory space. Now overseeing the U.S. Regulatory Technology at Scotiabank, the group is responsible for overseeing implementations, responses and regulatory compliance for U.S. Technology to all U.S. Regulators for Scotiabank.
As a women of Irish and Syrian decent, Melissa has always had a passion diversity and the pursuit of justice. In university she began to experience the impact of the lack of diversity and unconscious bias. Although felt, the magnitude of the problem was not truly understood until she began her career in banking. As a young, female Senior Leader in FinTech, Melissa has been able to dissect several banking and consulting organizations to discern that the problem is not diversity, but culture.
A fervent advocate for change, Melissa's mission is to correctly balance the incentive structure of our industry and educate our leaders to create an organic culture of inclusion where each person has the fair opportunity to thrive. Whether in the Regulatory or the D&I space, she constantly pushes the envelope of her fellow leaders and executives to evolve.
For more information please visit MelissaMurphy.org
Tsitsi Mutiti Chartered FCSI, Investment Manager, Charles Stanley & Co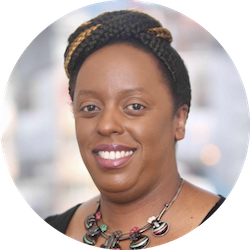 Tsitsi joined Charles Stanley in November 2007. She is a Fellow of the Chartered Institute of Securities and Investments (CISI). Tsitsi manages Discretionary portfolios for private individuals, Charities and Trusts as well as covering industrial companies and UK funds. In addition, she is a founding member of the Innovation Through Inclusion Group which designs and implements initiatives to support Charles Stanley's diversity agenda. She is also a member of the Editorial Panel of the CISI's magazine, The Review. In
October 2018 Tsitsi launched the Women Reshaping Their Financial Future events with the aim of helping women to gain the confidence to take control of their financial well-being. Tsitsi was the recipient of the 2018 Women In Finance Rising Star of the Year Award and the Bronze Woman of the Year Rising Star Award at the Citywealth 2019 Powerwomen Awards.
Anya Navidski, Founding Partner, Voulez Capital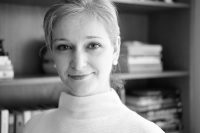 Anya is the Founding Partner at Voulez Capital – Europe's First VC fund for female founders. She is passionate about facilitating equality of opportunity when it comes to raising of capital and is the pioneer of Voulez Capital's Fair Venture Principles. Having started her career with the likes of Goldman Sachs, PwC and NERA, she became an unrepentant entrepreneur, with almost twenty years of experience building businesses in multiple sectors and geographies, from running a £250m renewable energy venture and founding an incubator for social impact businesses, to turning around multiple ventures on behalf of investors. She has advised a European government on setting up and execution of an innovative "SME Champions" fund, acted as an advisor to JP Morgan in the area of renewable energy and innovative funding instruments and was a Director of the INSEAD Centre for Entrepreneurship. Anya is an Investor in Residence at Google for Startups and has been featured in many publications, including the Financial Times.
Pascale Nicholls, Head of Central Finance, Amnesty International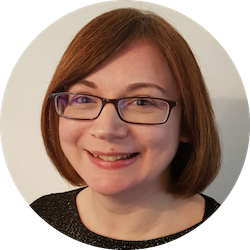 Pascale started her career at Deloitte LLP in the audit practice. In 2009 she moved into the charity sector, taking on the role of Head of International Finance at the Amnesty International, International Secretariat. She was the recipient of the Sayer Vincent Financial Leadership Award in 2014 for leading the design and implementation of the common reporting framework across the global Amnesty movement. In 2015, she became Head of Central Finance, being responsible for Amnesty's financial accounting, governance, systems and processing functions. She is proud to have directed Amnesty's successful submission for the 2017 Third Sector Finance Team of the Year. Pascale is a qualified accountant, a member of ICAEW and a graduate in Mathematics from Oxford University.
Helene Panzarino, FinTech Relationship Professional & Advisor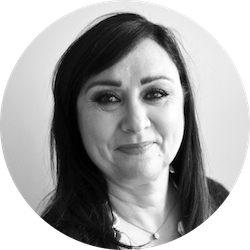 Originally a Commercial Banker, Helene is an experienced FinTech Programme Director, Exited Entrepreneur, and Educator, and currently MD of the global Rainmaking Colab FinTech Programme, a world-first, post-accelerator programme connecting Series A+ FinTechs to Tier 1 banks financial institutions in order to create genuine commercial opportunities for both. She also successfully created and launched the Inaugural Programme of Education and Events for Innovate Finance, the UK FinTech trade body. Helene has worked to enable commercial engagement, investment and genuine growth for the SBC and Rainmaking FinTechs as well as those she's worked with during her time at Grant Thornton on accessing finance.
Passionate about the future generation of FinTech founders, she is also helping to shape the next generation as the Lead Fellow (and creator) on a world-first FinTech Pathway in a Masters in Tech Entrepreneurship Degree for UCL, and co-creator and lead delivery partner on the Imperial College FinTech Executive Education Programme.
Named a Top 10 Influencer in SME Funding, Helene is the sole author of Business Funding for Dummies (Wiley), and a contributor to The Parliamentary Rose Report on Female Funding in FinTech. She adds a voice to the FinTech community with articles such as 'Has Open Banking Moved the Needle?' and 'AI in Financial Services'.
She is a regular judge, speaker and moderator for the FIA Awards, Global Mobile Congress, SWIFT Innotribe, FinTech Week London, EFMA (European Finance) on FinTech and Corporate collaboration, Money Live on FinTech/Corporate Collaboration, the Retail Banking Conference London, Lendit (FinTech Partnerships, Open Banking) and the Great British Entrepreneur Awards.
Helene is a member of The FinTech Advisory Board for the BSI and on the Steering Group of the TLA FinTech Working Group. Named on the Computer Weekly 100 Women in Tech Award 2018, she was also recently inducted into the St George's Leadership Foundation at Windsor Castle.
David Renton, Director of Investment, Guy's and St Thomas' Charity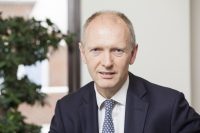 David joined Guy's and St Thomas' Charity in 2011 as Director of Finance and Investment. He looks after the £800m endowment which is invested in a globally diversified multi asset class financial portfolio, a portfolio of London properties and a growing portfolio of health impact funds.He is also responsible for Charity's core finance and operations teams that support the charity's £30m pa charitable spending. His early career was in corporate finance with Schroders and Hawkpoint Partners where he advised SMEs and private equity houses on mergers and acquisitions. He is Treasurer of the Association of Charitable Foundations, chair of the Large Charities Special Interest Group at CFG and a director of Cydar, a medical spin out company.
Passionate about the future generation of FinTech founders, she is also helping to shape the next generation as the Lead Fellow (and creator) on a world-first FinTech Pathway in a Masters in Tech Entrepreneurship Degree for UCL, and co-creator and lead delivery partner on the Imperial College FinTech Executive Education Programme.
Named a Top 10 Influencer in SME Funding, Helene is the sole author of Business Funding for Dummies (Wiley), and a contributor to The Parliamentary Rose Report on Female Funding in FinTech. She adds a voice to the FinTech community with articles such as 'Has Open Banking Moved the Needle?' and 'AI in Financial Services'.
She is a regular judge, speaker and moderator for the FIA Awards, Global Mobile Congress, SWIFT Innotribe, FinTech Week London, EFMA (European Finance) on FinTech and Corporate collaboration, Money Live on FinTech/Corporate Collaboration, the Retail Banking Conference London, Lendit (FinTech Partnerships, Open Banking) and the Great British Entrepreneur Awards.
Helene is a member of The FinTech Advisory Board for the BSI and on the Steering Group of the TLA FinTech Working Group. Named on the Computer Weekly 100 Women in Tech Award 2018, she was also recently inducted into the St George's Leadership Foundation at Windsor Castle.
Michael Trippitt, Banking Consultant and Expert Witness, Michael Joesph Consulting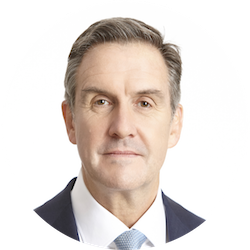 Mike is a Banking Consultant and Expert Witness with thirty years' experience covering sell-side equities analysis, research management, corporate planning, financial control, and investor relations. Since 2015 he has been an expert witness on various bank sector shareholder actions and a consultant on a number of projects, including data and research recommendations for UK Finance. Mike is a retained equity valuation instructor on the Asset and Liability Management Association's Certificate in Balance Sheet Management. Mike was an equity analyst for 20+ years at a number of institutions covering the UK banks and was seconded to the Association of British Insurers for a project on the Investibility of UK Banks, drawing opinions from UK Banks' senior management, investors, politicians, regulators and central banks. During this time Mike also led HSBC's global banks equity and fixed income research at HSBC.
Nell Scott, Partner, Orrick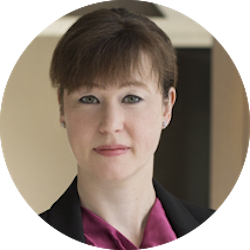 Nell's practice focuses on emerging markets investments and financing, as well as accessing the US capital markets, and her clients include global financial institutions, large multinational companies, small start-ups and sovereign governments. Nell began her career working on civil society and charitable sector development in Russia from 1993 to 1997, after which she worked at law firms in New York and Washington before moving to London in 2006 to join Orrick. Nell leads the London office's diversity and inclusion initiatives, which include unconscious bias awareness, contextual recruiting, women's recruitment and retention programmes, mental health and mindfulness promotion. Nell is the winner of the 2018 Women in Finance Awards Legal Adviser of the Year.
Suzanne Liversidge, Partner, Kennedys Law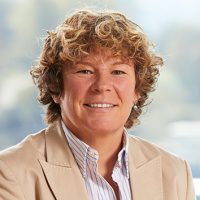 Suzanne is a partner and global board member at Kennedys, a leading global insurance law firm. At Kennedys she helps lead their global strategy group and is head of the Sheffield office. She works with insurers, self-insured corporates, brokers and local authorities and spearheads the firm's women in insurance group and Kennedys' diversity group. Suzanne is focused on client care and the management of relationships. She acts as strategic advisor to improve business performance in the claims arena. Suzanne is ranked as a Recommended Lawyer in The Legal 500 where she is described as "market-leading".
Outside of the law, Suzanne continues to be very involved in the commercial and social sectors . In 2010 she became the first female president of the Sheffield chamber of commerce in its 242 years history. She spearheaded the women in business regional network, has held various NED roles in the arts world, was chair of common purpose South Yorkshire and is current deputy chair of the Sheffield united foundation undertaking her roles a trustee for social inclusion and women in football. She is patron to Ashiana, a specialist support service for trafficked and abused women in the UK and to Cavendish cancer care.
She was voted UK business woman of the year 2007 in the prowess awards and Sheffield business woman of the year 2007 and again in 2008.
Rose St. Louis, Head of Strategic Partnerships, Zurich Insurance Company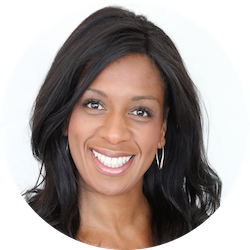 Rose has over 20 years' experience working in financial services. She established her career as a financial adviser so has an appreciation of consumer behaviours as they relate to investments and insurance. After a brief stint in risk and compliance, Rose worked at SEI Investments managing a large global private banking relationship providing outsourced investment management and investment processing solutions.
Rose joined Zurich in June 2015 from Legal and General and in 2018 she became Head of Strategic Partnerships as part of the Distribution Leadership team. She leads a team responsible for creating and maintaining large intermediary relationships.
Rose is Zurich's lead consumer spokesperson, chair of Zurich UK's Women's Innovation Network, a Trust Executive for Zurich Community Trust, board member of trade body the Investment and Life Assurance Group (ILAG) and voted Woman of the Year – Protection in the 2018 Women Financial Advice Awards.
Rose graduated from the University of Kent with a degree in Public Administration & Management and is CII Diploma Qualified. She has played netball for England, and outside of work enjoys travel and volunteering.
Click here to view the AGENDA
Wednesday, 26th June 2019
08:30 Registration opens
09:00 Producer & Chairperson's Conference Welcome
Tania Ferreira, Senior Conference Producer, Bonhill Group
Nis Arend, Founder, The Corporate Confidante – Elevating Top 1% Talent
USING TECHNOLOGY TO ADVANCE THE FINANCIAL SERVICES INDUSTRY
09:10 PANEL DISCUSSION: Embracing change and managing industry disruptions
Discussing the technological, social and regulatory disruptors in the finance industry
How has the era of digitalisation influenced internal processes and client services?
How have customer demands and customer journeys changed in the last 3 years?
Analysing regulatory change – the regulations that impact you and your clients
Tackling company culture and effectively switching from legacy systems/processes
Predictions: Which disruptors will have the largest impact on the industry over the next 3 years?
Moderator: TBC
Pascale Nicholls, Head of Central Finance, Amnesty International
Tsitsi Mutiti, Investment Manager, Charles Stanley & Co Ltd.
09:50 PRESENTATION: Blockchain 101 and how it helps you
An introduction to blockchain and Distributed Ledger technology
Why has it created such a hype in financial services?
Identifying the challenges faced when adopting – reviewing some of the use cases
Addressing concerns regarding regulation and monitoring
Is this a silver bullet for finance functions and financial services woes?
Jenny Knott, CEO, FinTech Strategic Advisors Ltd.
10:10 FIRESIDE CHAT: Preparing for the social impacts of new technologies
As a result of emerging technologies, how disruptive will the reduction in the workforce be?
What will the new entry point be? What new jobs can be created?
What new skills will young professionals need to have?
Are we looking for data engineers rather than accountants now?
Analysing the effects of people displacement – how will this be economically viable and sustainable?
Moderator: Saadia Mujeeb, Global Head of Hedge Funds, Asset Managers, Prime Brokerage & CCPs Risk, NatWest Markets
10:40 Morning Break & Speed Networking
If you would like to take part in speed networking, please contact Tania.Ferreira@bonhillplc.com
*Note: Vendor companies will be required to sponsor in order to participate.
11:40 PANEL DISCUSSION: Independent vs long standing high street banks
What is the state of banking today?
Discussing the growing surge of independent banks and their offerings
How are retail banks evolving in order to compete
What new technologies are being adopted? Where and how are they being applied?
Looking ahead: What will the market look like in the next 3 years?
Moderator: Jacqui Hatfield, Partner and Head of Fintech Regulatory in London, Orrick, Herrington & Sutcliffe
Sophia Bantanidis, Head of Regulatory Strategy & Policy TTS Innovation, Citi Labs
Michael Trippitt, Banking Consultant and Expert Witness, Michael Joseph Consulting Ltd.
Senior representative from Starling Bank
MANAGING RELATIONSHIPS & SUPPORTING RESPONSIBLE INVESTMENTS
12:50 PRESENTATION: Connecting impact measurement to intrinsic value and financial performance
Why power and ownership do not necessarily equal success
How gender balance and collaboration will bring a responsible version of capitalism to the fore
Discussing the female archetype of "Mother Nature" and using money to make the world a better place
Changing how people think about money and investment – it's about the Total Stakeholder Value
Maturity Institute: the first not-for-profit educational organisation measuring TSV
Lucy Dunnett, Investment Advisor, Berenberg
Paul Kearns, Chair, Maturity Institute
13:10 FIRESIDE CHAT: How to support female entrepreneurs in securing financial investment
What are investors looking for in potential business opportunities? How has this criteria changed over the last 10 years?
What are we looking for in company founders and potential business partners today?
Why is only 2% of investment funds being invested in female entrepreneurs?
Identifying the barriers, what needs to change and how to do it?
How can associations, governing bodies and alliances support greater change?
Moderator: Helene Panzarino, Managing Director & Associate Professor of Fintech & Innovation, Rainmaking & London Institute of Banking and Finance
13:40 Networking Lunch
INVESTING IN YOUR PERSONAL DEVELOPMENT
14:30 PANEL DISCUSSION: The ideal role model
What makes someone a role model?
Discussing the importance and lack thereof of female role models in the financial industry
What do male role models look like and what can we learn from them?
How to raise your profile and become a role model
Highlighting roles models that support and advance their teams and young women within the business/industry
Moderator: Yulia Baynham, Director – FS Consulting Practice, PwC
Tsitsi Mutiti, Investment Manager, Charles Stanley & Co Ltd.
15:10 FIRESIDE CHAT: Being a leader from start to finish in your financial career
Speaking the language of a leader – what does this mean?
Comparing various leadership styles – strengths and weaknesses
How to lead effectively and be you
It's not just about IQ, you also need an Emotional Quotient (EQ) – overcoming your own unconscious bias and getting to the top
Moderator: Rina Goldenberg Lynch, Founder and CEO, Voice at the Table Ltd.
Pascale Nicholls, Head of Central Finance, Amnesty International
Rose St Louis, Head of Strategic Partnerships, Zurich Insurance Company Ltd.
15:40 PANEL DISCUSSION: On ramping and off ramping your career
Discussing parental leave, extended sabbaticals and the professional pause
Evaluating the current programmes and initiatives in place for professional breaks
Evaluating paternal leave, the double standards and perceptions
Avoiding the "We were on a break" assumptions regarding your capabilities and desires to progress
Keeping your foot in the door with "keep in touch days" and maintaining your champions in the workplace
Moderator: TBC
Nell Scott, Partner, Orrick, Herrington & Sutcliffe
Penny Miller, Partner, Simmonds & Simmonds
Jacqui Hatfield, Partner and Head of Fintech Regulatory in London, Orrick, Herrington & Sutcliffe
16:20 SUMMIT ROUND-UP: Your pledge for improvement
Discussing the key takeaways from this year's summit
Tweet your pledge: Making your pledge for change

Given the content and insights shared, attendees are asked to pledge what they will implement and/or take back to their business
16:30 End of Conference
Women In Finance 2019 Awards
19:00 Champagne Reception
19:30 Welcome and Keynote Addresses