[et_pb_dp_oc_custom show_arrow="off" show_control="off" direction="rtl" slide_speed="1000″ slide_hover="on" thumbnail_size="thumbnail" number_thumb="8″ item_margin="12″ background_layout="light" disabled_on="off|off|off" _builder_version="3.19.17″ custom_margin="|8px||8px" custom_padding="5px|0px|0px|0px" behavior="rewind" _i="0″ _address="1.0.0.0″ /]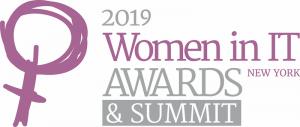 2019 WOMEN IN IT NEW YORK SUMMIT
Bonhill Group is proud to announce the launch of the 2019 Women in IT New York Summit, co-located with the Women in IT Awards on March 28th at the Cipriani 42nd Street.
With the U.S. being one of the biggest powerhouses for technological innovation and development, there is no better place to advance your career in tech. More so now, as we see more and more exciting new technologies such as AI, Machine Learning, Blockchain as well as new developments within data, analytics and cybersecurity. The opportunities to get involved and to contribute to this growth are endless…or are they?
The IT and technology industries continue to be heavily dominated by male professionals and little has changed since diversity and inclusion discussions began. In IT, for example, the percentage of global female IT leaders remains at 9%. In the U.S., women make up less than 20% of the tech jobs, even though they make up more than half of the whole U.S. workforce (Small Business Trends, 2018). This lack of inclusion and diversity is actually impacting how tech is programmed and designed today.
This is your opportunity to hear from and network with some of the most interesting individuals in this industry. And it doesn't end there! Be sure to join us at the Women in IT Awards Gala where we recognise and celebrate the best in the business. Categories include amongst others: Advocate of the Year; CIO of the Year; Entrepreneur of the Year; Future CIO of the Year; Business Role Model of the Year; CTO of the Year; Rising Star; and Diversity Initiative of the Year.
Now is not the time to be shy and you should be at the WIT Summit getting involved in the discussions. Guarantee your place in the market while staying on top of important industry trends. The only way to see real change is by working together as an industry, to correct our course and to truly develop technology that is for everyone. Register for this fantastic event via the link below. 
We will see you in March!

Click here to view the AGENDA
AGENDA
Thursday, March 28th 2019
08:00 Registration opens
09:00 Producer & Chairperson's Conference Welcome
EMERGING TECHNOLOGIES AND DIVERSITY
09:10 PANEL DISCUSSION: Is AI for everyone?
Highlighting the benefits and challenges of AI in your business

Understanding the importance of fostering relationships and human interaction

How has AI enhanced internal processes and customer-facing services

Why is or isn't AI for your business? Will this change?
Moderator: TBC
Anuradha Gali, Uber Engineering, Uber, USA
Veena Gundavelli, Founder & CEO, Emagia, USA
Uma Narayanan, Senior Director – Technical Solutions Architecture, NTT Data Services, USA
09:45 PRESENTATION – TBC
10:05 PANEL DISCUSSION: Diverse and inclusive technologies – is this a reality today?
What makes up AI – personalities and preferences?

Where can we see the greatest diversity discrepancies in the technology?

How different would today's tech be, if there were more diverse tech teams?

How can you create greater diversity in AI?
Moderator: TBC
Catherine Devine, Business Strategy Leader – Libraries & Museums, Microsoft, USA
Sadia Halim, Managing Director, BNP Paribas, USA
Nabila Aydin, Global Marketing Director, FDM Group, UK
Jennifer Cloer, Co-Founder, The Chasing Grace Project, USA
10:40 Morning Break & Speed Networking
If you would like to take part in speed networking, please contact Tania.Ferreira@bonhillplc.com
*Note: Vendor companies will be required to sponsor in order to participate.
PURSUING YOUR DREAM IN TECH
11:10 PRESENTATION: A journey from the kitchen to being a powerful business women
How an app idea turned into a book deal and lead to international recognition in the tech space

Understanding the "Pivotal Moments" that influence and make your professional career

Standing together and helping each other climb the ladder to success
Susanne Birgersdotter, Founder, SthlmAppLab and World Women Network, Sweden
11:25 FIRESIDE CHAT: Navigating your way into the exciting world of tech
Identifying gateway jobs and building your skills and CV

Finding the courage to pursue new challenges and step out of your comfort zone

Allowing yourself to learn new skills, learn on the job and embrace more responsibility

How often have you just said "Yes" without second guessing? Overcome your insecurities

Be a Yes Women and seize every professional opportunity
Moderator: Marie Wiese, President & Founder, Marketing CoPilot, USA
Paula Hunter, Executive Director, NFC Forum, USA
Jennifer Cloer, Co-Founder, The Chasing Grace Project, USA
Marieke McCloskey – Usertesting, USA (TBC)
11:50 PRESENTATION NFC Forum
Paula Hunter, Executive Director, NFC Forum, USA
12:05 PRESENTATION: Negotiating equal pay
The current state of the gender pay gap

Understanding and leveraging best practices in compensation negotiation

Keeping the discussion objective to maximize results

Using these same lessons when on the other side
Katie Donovan, Founder, Equal Pay Negotiations, USA
OPPORTUNITIES IN CYBER SECURITY
12:20 FIRESIDE CHAT: Opportunities in cyber security but no traction – why?
Comparing tech role popularity and the low uptake of positions in security

Are universities noticing a decrease in numbers and have we understood why?

Highlighting the opportunities and importance of professionals in cybersecurity

How can the lack of expertise leaves us vulnerable especially in the tech industry

How can we engage and incentivise young students and industry professionals to move into the cybersecurity space?
Moderator: TBC
Deneen DeFiore, CISO, GE Aviation, USA
Neal O'Farrell, Founder, Schooled in Security, USA
12:45 PRESENTATION: More Young Women in Cybersecurity? It's all about the pitch
Why the failure to attract a new generation to cybersecurity is everyone's fault

Why schools are such an untapped asset but tough challenge

Why young women need to meet better role models

How Schooled In Security is taking a different approach
Neal O'Farrell, Founder, Schooled in Security, USA
13:00 PRESENTATION: Collecting courage
Discussing the unique journey through the arts and into the cybersecurity space

Highlighting the skills gathered along the way that lead to developing the courage to face challenges in this growing career space

Sharing a vulnerable narrative about facing imposter syndrome during growth.
Diana Birsan, Security Program Manager, Shopify, Canada
13:15 Networking Lunch
PERSONAL DEVELOPMENT AND LEADERSHIP
14:00 FIRESIDE CHAT: Over mentored and not enough sponsorship
Analysing the difference between mentors and sponsors

Knowing how to work and leverage your network both in an organisation and outside

Who do you need to get to know and how do you get to them?

Leveraging the support of male colleagues as sponsors and working in partnership
Moderator: Nabila Aydin, Global Marketing Director, FDM Group, UK
Nancy Harris, EVP, Sage, USA
Marie Wiese, President & Founder, Marketing CoPilot, USA
Senior representative from Accenture
14:25 PANEL DISCUSSION: Using your professional success to give back
How to leverage your knowledge and expertise for the greater good

Examining how investments in digital literacy can help you contribute to communities

Supporting local communities through connectivity and sustainable initiatives

Understanding the benefits of these projects and how you to can give back
Moderator: TBC
Leah Kraus, CIO, North Carolina Central University, USA
Etosha Ottey, President & CEO, Chicago Black Women in Tech, USA
Elizabeth Baxter, Vice President, Women in Technology – DISC, USA
Judith Spitz, WiTNY Founding Program Director, Cornell Tech, USA
Rekha Venkatakrishnan, Staff Product Manager, Wallmart Labs International, USA (tbc)
15:00 PRESENTATION: WiTNY – How industry and academia can come together to drive change at scale towards gender equity in tech
Identifying the right partners for a public-private partnership

Standing on the shoulders of giants but innovating to meet the needs of your constituency

Changing the lives of thousands of young women – one at a time

Delivering results that matter
Judith Spitz, WiTNY Founding Program Director, Cornell Tech, USA
15:15 Workshop: Overcoming Perfectionism & Silencing Your Imposter
"All the opportunities we miss because we are too afraid to put anything out in the world that could in IMPERFECT, or dreams we don't follow because of FEAR of FAILING, or DISAPPOINTING OTHER." – Dr Brene Brown.
Do you want to play bigger but feel like an imposter?

Do you dream of moving into a more senior role or major project, but fear is holding you back and keeping you quiet?

How many decisions do you make each day based on what you think you SHOULD do, rather than what you WANT to do?
This interactive workshop blends Dr Brene Brown's research with exercised and group discussions to shine a light on our inner critic and perfectionist tendencies. We will identify strategies to move forward and experience the power of knowing that we are not alone.
Gareth Davies, Co-Founder, The Bravest Path, UK
16:00 End of Conference
Women In IT 2019 Awards – New York
19:00 Champagne Reception
19:30 Welcome and Keynote Addresses
Nabila Aydin "I'm really excited to be taking part in the WIT NY Summit and I look forward to discussing the power of mentors and sponsors at work. I've had both and this certainly helped me progress and develop in my career."

Uma Narayanan "During my panel, I'm looking forward to exploring examples of building AI-enabled solutions for my financial services clients, while also highlighting the importance failing has had on our continued success alongside other industry leaders."
Elizabeth Baxter "I'm thrilled to be speaking at the 2019 WIT New York Summit! As a young woman in tech, I've experienced the many common challenges woman face in pursuing their tech career. From battling impostor syndrome to discovering my passion in cybersecurity, I've learned that the challenges for females in tech are very real. This conference provides a unique chance to address these topics and spread awareness for those who are passionate about tech, but who are also unaware of how to overcome its boundaries."
Summit + Awards Gala Dinner
Please note that these prices do not apply to vendor companies.
Summit Only
Please note that these prices do not apply to vendor companies.
Awards Gala Dinner Only
Please note that these prices do not apply to vendor companies.